McLean, Margaret (1845-1923)
Margaret McLean was a resident of East Melbourne and a towering figure in liberating women through education, health, prison reform, temperance and democratic participation. The material here was researched and presented to the Society by Dr Liz Rushen on 18 June 2008.
Margaret McLean 1902
Introduction
By Jill Fenwick, President, East Melbourne Historical Society
Dr. Liz Rushen is known to many of our members tonight as a friend, neighbour and an active member of the East Melbourne community. She is a co-founder, with Dr. Anne Colman, of the East Melbourne Historical Society, which they began discussing in 1998 and brought into existence in 1999. Liz is the author of fourteen books, the last three on the immigration of free females to Australia. Her text, Single and Free: female immigration to Australia 1833-1837 was drawn from her PhD thesis and was followed by two further books, Quarantined and The Merchant's Women.
Tonight, however, she will talk to us about Margaret McLean, also an East Melbourne resident, who lived for many years at Torloisk, later known as St. Ives, on the corner of Wellington Parade and Vale St., East Melbourne. McLean was active in the temperance movement, in prison reform, particularly for adolescents and in the movement to gain the vote for women. It is difficult now to understand the resistance to the female franchise and why it took so long to achieve, but perhaps we may look to general attitudes among males in the late nineteenth and early twentieth centuries.
Lord Curzon, speaking to the House of Lords in 1910 was adamant that
No precedent exists for giving women, as a class, an active share in the government of this great country or Empire, and it is not for Great Britain, whose stake is at the greatest, and in whose case the result of failure would be most tremendous, to make the experiment ... the presence of a large female factor in the constituencies returning a British government to power, would tend to weaken the estimation of Great Britain in the estimation of foreign powers.
Universal female suffrage was not achieved in Britain until 1928. In Australia, men's fears seem related to more mundane matters. In the Victorian Parliamentary debates of 11 December, 1906, a Mr. Staughton declared that.
There are some women, I admit, who always fancy they have a grievance. There are some women who, in their houses, are always complaining and I have no doubt that the houses of these women, who are the advocates of women's suffrage, are in a very miserable state. There are women who are agitating for the franchise who, if they attended more to their domestic duties and to their houses, would help to make the world more happy than it is at the present time. The result is not going to tend to make homes happier ... some of the women who are great shining lights in the suffrage movement have made their homes perfectly miserable.
I'm not sure whether the female franchise helped bring down the British Empire, nor whether granting the franchise to Victorian women led to more misery in the home, but I welcome Liz here tonight to honour one of those women with a grievance, Margaret McLean.
Margaret McLean
The First Signatory on the 1891 Women's Suffrage Petition
East Melbourne Historical Society 18 June 2008
Summary of presentation by Liz Rushen
1870 Margaret McLeanMargaret holds a special place in Australian female suffrage and women's rights, yet her name is little known. She was one of the founders of the Victorian branch of the Woman's Christian Temperance Union (WCTU) and was instrumental in many other women's organizations.
Margaret was born at Irvine, in Ayreshire, Scotland on 7 April 1845, the eldest child of Andrew Arnot, a carpenter and builder, and his wife Agnes. In 1849 the family migrated to the Port Phillip District embarking at Glasgow on the ship Quentin Leach. They first lived in Lonsdale Street, where Margaret's sister Agnes was born in 1853, and with whom she shared a life-long involvement in the WCTU.
In 1862-64, she undertook teacher training at the newly formed Melbourne Training Institution for teachers. This training as a teacher was important because it formed the basis for Margaret's later focus on education for women as a key to social reform. She was employed at St James Cathedral School until 1869 when she married William McLean, a fellow Scot and Baptist. Born in Dumfries, Scotland, the son of Peter McLean, cabinet maker, and his wife Jane, née Strong, William had arrived in Victoria in 1853, when eight years old.
He started a hardware business in 1870 and two years later his brother, Joseph, and William Rigg joined him. McLean Bros. & Rigg became a large and prosperous firm of ironmongers and general merchants. The new company grew quickly into one of the successes, and casualities, of 'Marvellous Melbourne'.
When they were first married, William and Margaret lived at 115 Leopold St, South Yarra and then spent two years in London, departing in January 1876. On their return, they moved to Overton House, Pakington Street, Kew however, due to the ill-health of their son Norman, Margaret wished to be close to the medical facilities of East Melbourne. They re-located to Varzin in George Street, where their daughter, Eva, was born in 1886 and where 11 year old Norman died that October.
In March that same year, William commissioned the architects Twentyman & Askew to design 'a large three story residence with stabling' and engaged the builders W. W. Saddington for their landmark property Torloisk, on the corner of Wellington Parade and Vale Street.
They named the property Torloisk due to its association with the Clan McLean in Scotland. Their daughter Jessie was born at Torloisk 1888 and it was there in October 1888, that Margaret's sister, Agnes, married William Lucas, an architect with strong South African connections.
William and Agnes Lucas lived for a time in Hotham House at 175 Hotham Street and various other houses in East Melbourne, including Burlington Terrace, 19 Lansdown Street, in 1923.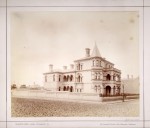 1887 TorloiskWilliam McLean built two other houses in East Melbourne – at numbers 40 and 42 George Street: #40 was built to accommodate his father Peter; #42 was built for Margaret's father, Andrew Arnot. The houses were built on low-lying floodway land. When the Collingwood railway cutting was excavated under Hoddle Street, this low-lying section of George Street was built up with the excavation material to the height of approximately one building storey, which accounts for today's siting of the houses in relation to the street level.
The family had one final connection with East Melbourne - due to William's business reverses, the family left Torloisk around 1893, moving to 342 Albert Street. Torloisk transferred to the Church of England and it became well-known as St Ives Private Hospital. The front turret was removed at this time. It is now back in private hands.
Margaret managed to combine her public duties with raising a large family of 11 children: she had six daughters and five sons. Margaret's daughter's careers reflect her wide-ranging interests.
1900 Ethel McLeanThe eldest daughter, Ethel, distinguished herself at the University of Melbourne where she graduated with a Bachelor of Arts in 1900. She was for many years head of staff at Lauriston Girls' School and was a member of the first elected council of the Assistant Mistresses' Association of Victoria. She retired in 1936.
The next daughter, Winnie, who was a twin, became a nurse, while Hilda was a Baptist missionary for many years in East Bengal, a distinguished student of classical Hindu texts and Islam, and author of two books. She died of pernicious malaria on board ship in September 1938 on her way home to live in retirement in Australia.
Alice was one of the first women in Victoria to hold a medical degree from the University of Melbourne. She matriculated from PLC in East Melbourne when she was aged 16, too young to be admitted to the University, so she undertook horticultural studies. She was finally able to be admitted to the University, and graduated in 1906 with two degrees: medicine and a Bachelor of Science. She was one of three women to graduate that year and a scholarship at the University is named after her. She was for many years a Baptist missionary in India with her husband, Rev Lorraine Barber. During the First World War, Alice worked at the Women's Hospital, Melbourne. She later studied psychiatry in England before returning to Melbourne to practice psychotherapy, making an influential contribution to its establishment in Melbourne.
Eva led a domestic life and looked after Margaret, while Jessie, the youngest daughter, became a graphic designer.
It was Margaret's concern for the well-being of women and children which led to her involvement in the formation of the Woman's Christian Temperance Union (WCTU) in Victoria. Elected President of the Melbourne branch of the WCTU at its formation in November 1887, in 1891 she became Colonial President. She served two terms as State president: in 1892-93 and from 1899 until 1907 when she retired with failing health and was elected Honorary Life President of the WCTU of Victoria, due to her long and distinguished service.
In 1902, at a meeting of representatives of 35 voluntary societies, held at the Austral Salon and chaired by Janet Lady Clarke, Margaret moved the motion for the formation of the National Council of Women. Margaret was nominated as President, but declined, due to conflicting responsibilities with her WCTU work.
Margaret became one of the WCTU's foremost advocates of votes for women. Her pamphlets Womanhood suffrage (1890) and More about womanhood suffrage were circulated throughout Victoria via the WCTU's branch network.
In 1891 the WCTU combined with other women's and suffrage organisations to present to Parliament a petition containing over 30,000 women's signatures, calling for female franchise. The petition has been called the 'Monster Petition' due to its size. Margaret's was the first signature on the petition; No 2 was Mrs Monroe, wife of the then Premier of Victoria. However, Victorian women were denied the right to vote until 1908 – a centenary we are celebrating this year.
After retiring from the WCTU in 1907, Margaret continued working for temperance, social reform, free kindergartens and the Baptist Church. She died at Malvern on 14 February 1923 survived by eight of her children and was buried in the Melbourne General Cemetery.