Riches, Nora - 100th Birthday
On 15 February 2008, local resident, Nora Riches turned 100. Her son, Graham, and his wife, Viv, invited family and friends to celebrate the occasion with her.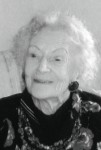 Riches, Nora
Nora was born in Birkenhead, Cheshire, England. As a young child she was an avid reader, particularly of poetry and plays. This, combined with an infallible memory, led her inevitably to a career in the theatre, acting under her maiden name, Nora Peachey. Among her many performances her favourite remains The Cradle Song, which she played twice.
At the age of twenty she married her actor husband, Arnold Riches. She tells the story of spending their honeymoon in Montreux at the same hotel as Stravinsky and his wife. Stravinsky was busy composing and his much younger wife was bored and spent all her time with the newly married Riches, much to their dismay.
The birth of her first child put her life on the stage on hold, but she was still in the thick of the theatrical world through her husband who continued a successful career. Rex Harrison was a close friend and, according to Nora, had exceptionally long arms. She used to take the arms out of his shirts and add extra material before re-attaching them. Under a jacket they looked fine.
In the lead up to World War II the Riches fell under the influence of the Mosleys, and became friends. Arnold stood for Parliament and Nora campaigned wearing a sandwich board and handing out pamphlets. Arnold failed to get in but polled better than a labour candidate had ever polled before in their electorate. Nora joined an organization which provided temporary refuge for Jewish families while negotiations took place for their resettlement. She put aside a bed-sitting room in their house for that purpose and during that time fed and looked after seven or eight families.
In 1939, realizing the inevitability of war, the Riches approached J.C. Williamson with the idea of setting up a theatre company in New Zealand. Williamson agreed and gave them a two year contract, but asked that they perform a couple of short plays in Sydney on the way. By the time that the ship reached Colombo war had been declared.
On arrival in Sydney the couple fell in love with it and never made it to New Zealand, or back to England. Looking for work in Sydney they approached E.J. Tait who pointed out the fine print in their contract – null and void in the event of war.
Nora eventually got work with the ABC, in particular the children's show called The Argonauts. This had a segment called "Fishy Fantasies" starring two characters, Stella the Stealing Starfish and Silas the Sinister Shark. Nora played Stella, and Peter Finch played Silas.
In Melbourne finally, with young children at school and fees to pay, Nora took work with Flair fashion magazine. She brought to it the idea of an eating-out column and each month would try out restaurants and write a short column of her experiences. She was involved in the fashion side too, and her biggest coup was to have Lisa Minelli photographed for the magazine's cover.
In her retirement Nora continues to star on East Melbourne's stage with women, young enough to be her grandchildren, citing her as a role model for their senior years – charming, vibrant and positively "cool".