Wynne McGrath
In Memoriam Wynne McGrath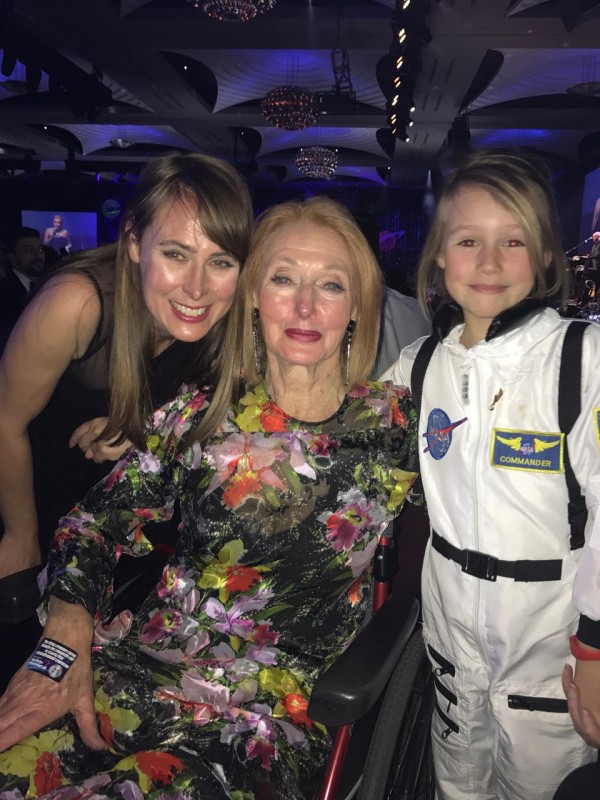 Video of service held at Holy Trinity
Wynne McGrath's Service from Multimedia Studios on Vimeo.
Di Renou
Wynne and I first met around 1975 when Meg and Shannon started kindergarten. She made friends immediately in that community even though she was busy managing John's specialist mechanics business. Soon the family moved to East Melbourne as well, and she was inspired to put her signature on their house, enjoying the challenge (including a powder blue Aga!!). She loved the area and went on to buy and transform a diverse range of properties, developing her expertise. She insisted on the highest quality and style, even though she ruefully said it affected her profit. Some say she was one of the transformers of the area from sleeping beauty to vibrant desirability. From the first project Wynne was energised by the memory of their young son Peter, even when he was seriously ill, encouraging her to follow her dreams. I loved seeing these projects at various stages of realisation, each so sympathetic to the soul of the house, but with her individual panache. The one time I hoped to influence her (no luck) was her removal of an impossibly crazy, but original stone slab bathtub. Of course, it was utterly impractical – and the room was changing use.
Her friendship circle expanded widely till she knew more of the locals than any other single person: from estate agents, council bureaucrats, architects, tradesmen, neighbours (including her beloved Danny) and local interest groups – many of whom she persuaded to support her plans. I was amazed and impressed by her commitment as well as her natural taste and immoveable resolve to complete fabulous renovations: no compromise was entertained. Although sometimes frustrated, she was ever an optimist. Of course, she always looked fabulous, whether at parties or at work; always pushing herself as well as inspiring others to produce their best.
I loved her enthusiasm and energy. She was an inspiration as a constant friend of some 45 years and too soon to leave us all, dear Wynne.
Chris Smith
When I first met Wynne in late 1977,I was slightly in awe. She had such an energy and was an indomitable spirit. She was competent and practical but also so vibrant, a little outrageous and had such a great laugh.
Our children were at Powlett St Kindergarten together then later in the same class at Yarra Park Primary School. We were on committees together involved in fundraising, fetes and arranging parent social events. Any plans were always touched by Wynne's flair and practicality.
At the same time, she managed, and John reigned, over the Garage workshop in East Melbourne. Wynne was always busy, yet she was a gregarious and generous friend. Peter and I plus our four children enjoyed visits to the farm where we had great fun and enjoyed Wynne's warm hospitality.
We moved to Kew but stayed in touch. Then Wynne and John bore the tragedy of Peter's illness and death. Again, Wynne's spirit enabled her to channel her sorrow and overwhelming grief into good with her extraordinary fundraising work for the Royal Children's Hospital. At the same time, I watched, again in awe, as she tackled renovations of large East Melbourne homes with her signature determination, style and flair. Her life was not easy, but she was so courageous and resolute.
When we met for coffee and she told me of her diagnosis, she was facing her greatest challenge. Over the following months we spoke regularly as she came to terms with her diagnosis, her grim prognosis and debilitating treatment. Yet her greatest concern was for others, for her dearly loved family with whom she wanted to spend so much more time. I will always value those conversations as we both reminisced and talked of the future. Even at her funeral she spoke not only wonderfully to her beloved family, but it seemed, to each and every one who attended. She was inspirational.
I will always miss and never forget Wynne.
Pam & Michael Wilson
Wynne
We have known
Wynne ever since
She first came to
East Melbourne.
She had quite a sense of humour and loved to talk.
Despite the tragedy of losing
her son Peter she
got on with her life and started a charity "My Room"
to raise funds for The Children's Hospital.
Wynne loved buying beautiful
Clothes but didn't Wear them very often. At one point between
Renovations or
A building project
She had nowhere to store her large
Collection. Our
Pharmacy premises was empty after
Relocating so we
Offered her the space. Her clothes were there for at least 2 years. She
would come from time to time and
Select an outfit for a special
Occasion. It was An unusual place
To keep an expensive collection. We often laughed with her about it.
Maureen McKeon
I met Wynne and Shannon at an early "My Room" meeting in Eaglemont following the sad passing of her son Peter.
Supporting "My Room" over many years Wynne welcomed me to East Melbourne and introduced me to the delightful Church Flower Girls for which I am most grateful.
Wynne was friendly, vibrant, stylish and loved a party. She was a loving mother, grandmother and a devoted partner to Danny. A privilege to have known her.
Gregory Ladner
I didn't so much meet Wynne as was ambushed by her. We had just moved into our renovation of the Lutheran church in Hotham street. I was unpacking some groceries when she braked behind me and in frenzy of vivacity demanded to see inside. I was somewhat taken aback and as she grabbed one of the bags of groceries, I saw no escape.
Of course, a great bond and affection developed over the years with our shared passion for architecture and interiors. She always would drop in and ask my opinion on plans, materials and ideas she was thinking about for the renovations she undertook in the following years. She completed these jobs and her legacy are these beautiful houses she created.
I said there is only one other house I would want to live in, in East Melbourne and it would be the house in George Street. She had an infectious joy and you always felt enlivened after an encounter, whether it be after a charity ball or a flying visit to get a hat for the races.
Although she had more than her share of sadness in her life what remains with me is the echo of her laugh and the happiness you always felt when she left you. She was much loved and will be sadly missed.
Myra Anderson
Wynne unexpectedly and momentously popped into our lives 30 years ago. I heard a voice calling me from the lane at the back of our home at 88 George Street. Introducing herself in her larger than life signature style then in a whirlwind off to her birthday party that evening.
In later years I recall attending Wynne's birthday party at her Hotham Street home. Gavin, her beloved brother, had given her the most enormous bunch of flowers. Such perfect and fitting flowers for the ever-stylish Wynne and her beautiful Hotham Street home. She was such a talent. Her house renovations were always outstanding and next to none.
Excitement for Wynne was a new frock, jumper, jacket or shoes. Wynne would pop in and show me her purchases. We would then try on… "What do you think?" We shared the love of clothes and shoes. Manolo Blahnik of course! The higher the heels the better.
Wynne was so special. We shared many stories, had many heart-to-hearts; comforted each other. Mostly though we laughed … a lot!
Thank you, Dear Wynne, for your friendship and so many special memories. What fabulous times we had over the years.
Virginya Sutton
Wynne was such an amazing person. Loved by everyone she met including me.
I'll never forget what my dear friend's Mum, who knew Wynne when they were friends as teenagers, said to me. She said Wynne was the Holly Golightly of the friendship group…. And that is exactly how I see Wynne and always will: super charming, a true beauty inside and out, fun-loving and mostly a huge heart.
Alison Leslie
Wynne McGrath was very much an East Melbourne identity. She was a very friendly person and I often stopped for a chat when she was caring for her much loved granddaughter on a weekly basis. I was looking forward to her moving into the apartment in Darling Street but sadly that was not to be.