What's in a Name? The Lanes of East Melbourne
A recent publication by the East Melbourne Historical Society. A must for every household in East Melbourne. Purchase your copy for $15 by contacting the East Melbourne Historical Society or by enquiring at the Library. A PDF version can also be downloaded from http://emhs.org.au/catalogue/embk0071.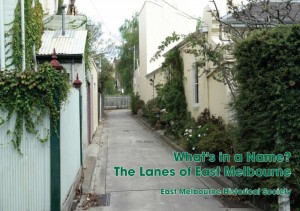 What's in a Name?: The Lanes of East MelbourneEast Melbourne's lanes are an integral part of its historic character. Their bluestone cobbles lead us back to the nineteenth century in a way smoothly tarmacked roads cannot.
The lanes were never part of Robert Hoddle's original plan for East Melbourne. This, like that of the city, was a grid of rectangular blocks each divided into twenty quarter acre allotments. It was only when the allotments were sold, subdivided and developed that the lanes came into being according to the requirements of individual owners.
As a consequence no lane is the same: some run the whole length of their block; others are short culdesacs; some have side branches; others narrow down to pedestrian width only. Some lanes have taken on a life of their own providing a street frontage for modern units hidden behind old houses; yet other lanes hold gallantly to the past sheltering old dunnies and reminders of the night-man.
Over the last thirty years many of the lanes have been given names: some because of the need to provide a street address for new buildings; others at the request of local residents; but generally as an aid to emergency services in locating a destination. The names are suggested by the Land and Survey Department of the City of Melbourne, and after consultation with immediate neighbours, and, more recently, the East Melbourne Historical Society, are then sent to Council for ratification. The team responsible for naming the lanes, on their own admission, are not historians and often the names chosen have been a random selection from the Rate Books, often simply the name of a person who has lived near a particular lane for a long time; or the name of a house which borders a lane.
It is now the purpose of this little book to tell in more detail of the people and places that have given their names to our lanes. The stories encapsulate the rich diversity of East Melbourne's heritage and highlight the abundance of history around us still awaiting discovery.
Lanes featured:
Albert Lane
Bionic Ear Lane
Brahe Lane
Burchett Lane
Contractors Lane
Evelyn Place
Gotch Lane
Green Place
Hayes Lane
Hotham Place
Lady Hastings Lane
Lalor Place
Magnolia Place
Maxwell Lane
Mena Place
Menzies Lane
Mozart Place
Nunn Lane
Nancy Adams Place
Ola Cohn Place
Powlett Mews
Providence Lane
Robert Russell Lane
St Helen's Place
Singleton Lane
Sophie Lane
Trinity Place
Von Guerard Lane
William Crook Place
Webb Lane
People featured:
Adams, George
Adams, Nancy
Ainslie, Mrs
Albert, Prince
Astley, George Manners, Lord Hastings
Bennett, Martha Mary
Brahe, Frederick Charles
Brahe, Mary Hannah
Bridges, Emma
Buckley, Mars
Burchett, Winston
Byrne, Herbert Richard
Byrne, Olivia Gertrude
Byrne, Richard
Carrington, Governor Lord
Casey, Lady Maie
Clark, Mary
Clark, Professor Graeme
Cohn, Carola (Ola)
Crook, Eliza
Crook, Ellen
Crook, Joseph Thomas
Crook, Minnie
Crook, Welton
Crook, William Joseph
Dawson, Peter
Dickson, Mary Hannah
Dickson, Robert
Dixon, Brian
Evelyn, John
Gipps, Governor Sir George
Glover, Elizabeth
Gordon, Alexander
Gotch, John Speechly
Green, Ernest
Green, John Hurst junior
Green, John Hurst senior
Harboard, Hon. Elizabeth, Lady Hastings
Hastings, Lord (Baron)
Hayes, Geoffrey
Hill, John
Hoddle, Robert 6,
Hotham, Governor Sir Charles
Hurst, James
Jones, Elizabeth Miller
Keenan, Olivia Gertrude junior
Keenan, Olivia Gertrude senior
La Trobe, Agnes Louisa
La Trobe, Charles Joseph 13,
Laing, Charles
Lalor, Peter 17,
Lewis, Miles
Liardet, Wilbraham Frederick Evelyn
MacKillop, Mary
Maxwell, May (Mary) (Maisie)
McCormack, John
McCrae, Georgiana
Melba, Dame Nellie
Menzies, Sir Robert Gordon
Milton, Fanny
Milton, George
Mitchell, Elizabeth
Mitchell, Nancy
Mitchell, Sir Edward
Montmollin, Sophie de
Moore, Henry
Moorhead, David
Morgan, Dr. Laura
Morrison, Dr. Alexander
Murray, Thomas
Nimmo, Miss
Nunn, Crumpton John
Nunn, Philip Henry
Perry, Bishop
Perry, Mrs
Pourtalès, Albert de
Powlett, Frederick Armand
Pretty, A.E.
Russell, Robert
Scobie, James
Singleton, Dr. John
Smith, Charles
Smith, John
Stanford, Leland
Stanford, Thomas Welton
Taylor, Helen
Taylor, Thomas
von Guerard, Bernhard
von Guerard, Johann Joseph Eugen
Watt, Wilhelmina (Minnie)
Webb, Charles
Webb, James
Woods, Father Julian Tenison
Wright, Thomas
Purchase your copy now!
A new publication by the East Melbourne Historical Society. A must for every household in East Melbourne. Purchase your copy for $15 by contacting the East Melbourne Historical Society or by enquiring at the Library.