Johnston, Louise (nee Friedrichs) (1880-?)
A Scullery Maid in East Melbourne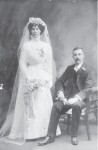 Louise and Robert Johnston 1909Mary Louise Friedrichs, known as Louise, was born in 1880. Her father had migrated to Victoria from Hanover, Germany, in 1860 hoping to teach the violin. Alas, such opportunities were in short supply and he became a wood carter, labourer and miner.
Louise and her three siblings grew up in a small miner's cottage in Parker Street, Maldon. The family lived simply. Her mother, Mary Therese, born in Galway, may not have been able to read or write, but she could sing and she loved the Irish jig.
When young Louise left the local Catholic school she took a job as a scullery maid for Thomas Welton Stanford of Stanford House, Clarendon Street, East Melbourne (now the site of the Freemasons Hospital).
Louise's grandmother, Maria Stanford, a hotel keeper, was born and married in Athlone, Roscommon, Ireland. She died in Ballarat three years before Louise was born. Two relatives of Louise, still living in Maldon, said their grandmother always said they were related to the same Thomas Welton Stanford for whom the young Louise worked, and indeed they thought that was how she got the job.
Thomas Welton Stanford, the brother of Leland, founder of Stanford University, arrived in Melbourne in the 1860's with a shipment of kerosene lamps. So successful was this new light that on the first night of its demonstration in a shop window, the sidewalk was so blocked with spectators that a policeman had to be stationed in front to clear the way.
Stanford married his Canadian born wife, Minnie, in 1869. She died the following year. Stanford was distraught and his interest in Spiritualism was heightened with his home regularly playing host to meetings.
We are not sure when Louise commenced working as a scullery maid in East Melbourne, but in 1900 she sent a postcard to her brother from Stanford House wishing him a happy birthday. Miss Annie Cupit was Mr Stanford's housekeeper and one day her friend Miss Johnston paid her a visit accompanied by her brother, Robert Alexander Johnston, a boot maker. This was the man Louise was to marry in 1909. Their one and only child, William Robert, was born in Lilydale in 1911.
Thomas Welton Stanford made a new will in the same year, and died in East Melbourne in 1918. Whilst Stanford did not leave William anything, when one reflects on their lives they had a lot in common. Both were collectors – Stanford collected paintings, and Johnston collected furniture and porcelain. Both started collecting as young boys. Throughout their lives they both owned substantial property and both loved gardening. In later life William Johnston went to work at Ackman's Home Furnishers in Smith Street, Fitzroy (now Safeway's), a property Henry Ackman had bought off Stanford during the 1880's.
One has to wonder whether Louise Johnston (née Friedrichs) ever took her young son back to Stanford House to visit Miss Cupit, or perhaps even Thomas Welton Stanford himself. If so, how much did these visits, or his mother's talk of this fine mansion, influence and shape William Johnston's life?
The Johnston Collection, East Melbourne, the legacy of William Robert Johnston, houses a collection of 18th and early 19th century antiques. For further information visit http://www.johnstoncollection.org