1988 03 Cairns Memorial Church fire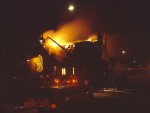 Acknowledgments:
Photographer: Rod Goodwin.
Professional photographer and resident of East Melbourne, Rod was returning home from an assignment in the city when fire was beginning to engulf this historic church. With his most suitable professional equipment at hand, Rod captured this dramatic and detailed record of the progress of the fire.