Cooke, Henry (1818–1889)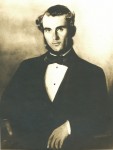 Cooke, HenryHenry Cooke was born on 10 March 1818 at Egglestone Abbey Paper Mill in Durham, England, fourth child of Henry and Hannah (nee Wilkinson). He was baptised two weeks later in Startforth Church, the day after his mother died. His father remarried in 1819 and fathered fifteen children, four with his first and eleven with his second wife. Henry and his siblings are descended from a long line of Papermakers in Durham and Yorkshire.
The family moved to "Howe Villa" Richmond, Yorkshire, eighteen miles away when Henry was twelve years old. While there, Henry worked as a Papermaker at the Whitcliffe Mill run by the family, until leaving England with his brother John in 1842, for Nelson, New Zealand. Henry and John spent about three years there, as landowners and early settlers before moving across to Victoria, Australia and continuing with landholdings north west of Melbourne, running cattle and sheep. Over the years they bought and sold land together in East Melbourne, Yan Yean and Mulgrave.
Henry and John were some of the first landowners in East Melbourne, importing timber from New Zealand to build residences in 1852. Henry lived in East Melbourne for many years with his wife Amelia and their young family. His home named "Egglestone Villa" at 180 Clarendon St was the first private residence in East Melbourne, and he lived there for about three years. This is now the site of the Freemasons Hospital. From 1856 to 1859 Henry was farming near Geelong, but he returned to East Melbourne and lived there for at least two years in Grey St and at 197 Albert St, before moving to "Howe Villa" at Yarra Falls from 1863 to1866. The family returned to live in East Melbourne in the1870's, and lived in Jolimont Square and then at 102 Hotham St, for over fifteen years.
Henry and his brother John set up a general merchant business in 1851, initially operating in Sydney, Ballarat and Melbourne. During the Victorian Gold Rush they received gold on consignment for safekeeping. The merchant business continued in Melbourne on the corner of Bond and Flinders St until the late 1870's, when it was moved to Swanston St. The focus of the business in these later years seems to have been on the importing and sale of paper products, including books, religious tracts and paperhangings.
In 1854 Henry and John founded "The Age" newspaper in Melbourne, partly because they disagreed with the way the existing papers were dealing with issues of the times. The Cooke brothers had been brought up in the paper mill industry, which possibly explains why they undertook this venture. Within three months they were struggling for finance and relinquished ownership, but the paper went on to celebrate over one hundred and fifty years in operation. John returned to the family paper mill in Yorkshire at about the time another brother, Francis arrived in Melbourne, and Francis then worked with Henry in the merchant business before he migrated to New Zealand in 1859. It appears that the brothers stayed in business together, as importers and merchants.
During the 1850's Henry was elected as a Melbourne City councillor and was also a Director of the Hobsons Bay Railway Company. He resigned from the company when they wanted to run trains on Sundays, which as a fervent Methodist he strongly objected to.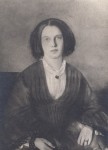 Ham, Amelia Annie JobSimilarly, during his time as owner of "The Age", he would not allow any work to be done on the paper on Sundays. Henry was a church trustee, class leader and superintendent of the Sunday school of the Methodist Church in Lonsdale St. In his later years he also spent his Sundays as a lay preacher and distributed religious tracts to the needy and those in prison watch houses. He was also clearly a family man with strong links to his extended family in England. Several of his properties in Victoria were named after his childhood homes.
On 5 Aug 1851 in Sydney, Henry married Amelia Annie Job Ham, daughter of Rev John Ham, the first Baptist Minister in Melbourne, and they had twelve children. Henry died on 18 Mar 1889 at his home "Egglestone" Dandenong Rd, in Oakleigh and is buried in the Cooke family grave in Melbourne General Cemetery.
By Jane Morey (great great grand-daughter), 25 June 2008